AFC Bournemouth
Benik Afobe joined Steve Fletcher as special guests at St Walburga's Primary School on Tuesday for the final week of the students' Premier League Primary Stars course.
The ten-week course, supported by AFC Bournemouth Community Sports Trust and the Premier League, aims for boys and girls aged between five and 11 years of age to develop their skills and ambition both on and off the pitch.
Lesson ten of the programme is known as 'Premier League Fixtures Week' and gives the students the chance to take part in competitive fixtures, and Afobe and Fletcher acted as coaches during the matches.
Afobe told afcb.co.uk about his time at the school: "I've come out with Steve Fletcher and we're watching the kids in the tournament, playing their five-a-sides. It's nice seeing the boys and girls mixing together and scoring goals.
"It's good to see them trying to impress us both; my team won though, obviously!"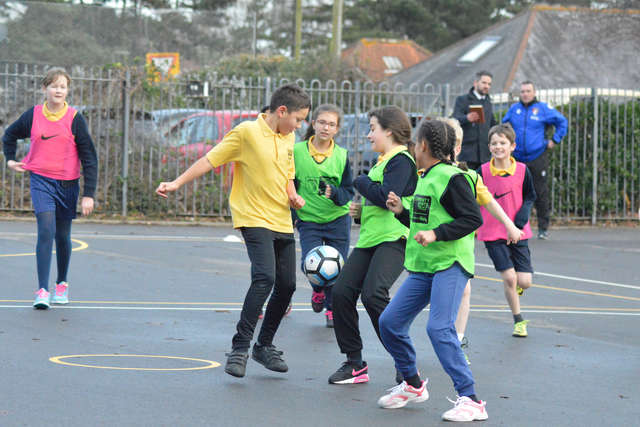 After the fixtures the winners received medals from the AFC Bournemouth duo, and Afobe spoke about the importance of acting as a role model and inspiring young people.
"It's good to get involved and if you're going to come down here you might as well get involved properly," he continued. "I enjoy it, seeing the kids with smiles on their faces seeing Premier League players or legends like Steve Fletcher come into their school, working with them and showing an interest.
"It's important, these kids watch us and when they can meet their heroes we can be inspirations to them. Sometimes we forget that, we can just be in a bubble and just think about training and helping the team.
"Even some adults look up to us and just by coming here it can help the kids in their school work and in other sports."
Head of community Steve Cuss added: "The Premier League Primary Stars programme has been a big success with St Walburga's School, with the year six pupils engaging well with the lessons and incorporating the Respect message throughout. 
"Having Benik Afobe and Steve Fletcher at the school on the Premier League Fixtures Week was a highlight for all concerned as the key learning messages were further endorsed."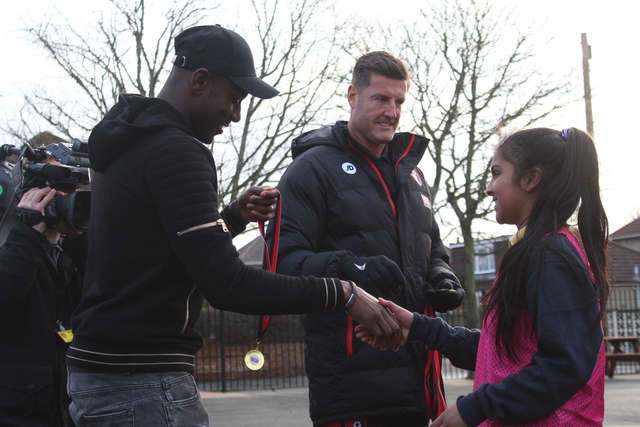 A key aspect of the course is to encourage respect among the participants and Afobe explained that respect on the field soon converts into respect in other parts of life.
"Respect is one of the main things," he said. "Everybody wants to be a success scoring goals and keeping clean sheets but the main things are to work hard and respect your opponents.
"It's a cruel game sometimes and there can be an aggressive side to it but, not just in football, if you can show your opponents respect you respect your classmates, your teachers when they're telling you things, so respect is very important."